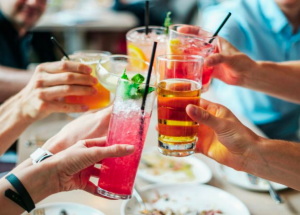 Summer is the perfect time for cocktails. We're off work, the holidays are stretching out in front of us, and we can finally relax with something long and cool.
These gin cocktails make the perfect summer serve – whether you're at home, by the pool or picnicking in the park – they'll leave you feeling refreshed in more ways than one!
Cheers!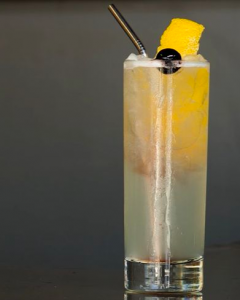 Tom Collins
A Tom Collins is one of the classic long gin cocktails but there's a lot of controversy around its origins, with numerous people laying claim to the invention. Apparently, the earliest record for Tom Collins was written by Jerry Thomas, the father of American mixology, in 1876.
Ingredients
2oz gin
¾ oz simple syrup
¾ oz lemon juice
Soda water
Steps
Fill a Collins glass with ice and keep it in the freezer.
Pour in gin, lemon juice, and simple syrup in a cocktail shaker.
Add ice and shake until well-chilled.
Strain into the chilled Collins glass.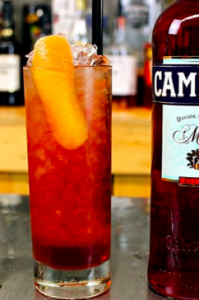 Negroni Swizzle
'Swizzling' is a way to chill the drinks by twirling a swizzle stick between your palms. Try this swizzled cocktail overflowing with ice to cool you off this summer.
Ingredients
1 oz gin
1 oz Campari
1 oz sweet vermouth
1 oz soda water
Steps
Fill a highball glass with crushed ice.
Add gin, Campari, and sweet vermouth.
Swizzle with a bar spoon until your glass frosts up.
Add the soda water.
Garnish with a piece of orange or twist.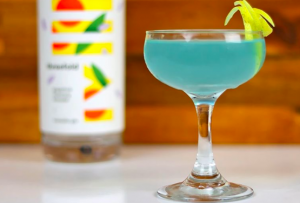 Takumi's Aviation
The Aviation is usually purple, made with Creme de Violette. However, when Takumi Watanabe, a Japanese bartender at The Sailing Bar, did not have the Creme de Violette on hand, he made do by using Parfait D'Amour which gives it a distinctive blue colour.
Ingredients
½ oz gin
½ oz maraschino liqueur
1 bar spoon parfait d'amour
⅓ oz fresh lemon juice
Steps
Combine all the ingredients into your cocktail shaker
Shake with ice
Strain into a chilled cocktail glass
Garnish with a twist of lemon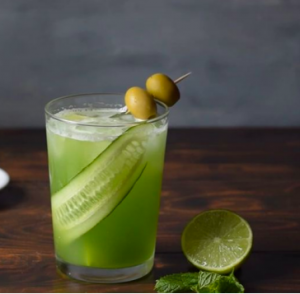 Cucumber and Gin Cocktail
This cocktail is a riff on the cucumber cooler, but takes it to the next level by using cucumber juice instead of the diced cucumber. The result is a refreshing green cocktail – the Incredible Hulk in a glass!
Ingredients
1 unpeeled cucumber
1 lime, cut into quarters.
2 oz gin
3 oz cucumber juice
1 tsp sugar
Mint leaves
Soda water
Ice
Steps
Cut up the cucumber and pulse in a food processor.
Strain using a cheesecloth or coffee filter.
Fill a tumbler with ice.
Using a peeler, cut a long strip of cucumber and arrange it to the side of the tumbler.
Muddle half a lime, 2 mint leaves, and 1 tsp sugar
Add the gin and cucumber juice into the muddling glass.
Add ice and shake vigorously.
Drop 2 quarter slices of the lime into the tumbler.
Strain the cocktail mixture into the tumbler.
Top with soda water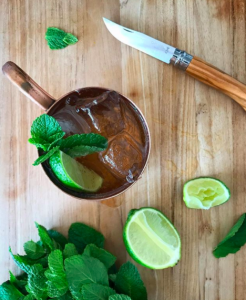 Gin Gin Mule
A modern classic, the gin-gin mule was created by Audrey Saunders of New York City's Pegu Club. While it's often thought of as a Moscow Mule with gin, it also has a bit of mojito influence. Either way, you look at it, it's incredibly easy to make and a fabulous drink you're sure to love.
As the name indicates, there are two "gins" in this recipe. The first is gin—as in the botanical liquor we know and love for everything from the martini to the gin and tonic. The second is ginger beer, that snappy soda that makes the Moscow mule a truly great drink. When you muddle in a little lime, syrup, and mint, the drink's flavour has a refreshing contrast.
Ingredients
8 mint leaves
3/4 oz lime juice (fresh)
1 oz simple syrup
1 1/2 oz gin
4 to 5 oz ginger beer (enough to fill)
Garnish: mint sprig
Steps
In a cocktail shaker, add the mint leaves, lime juice, and simple syrup. Muddle well to release the essence of the herbs.
Add gin and fill the shaker with ice
Shake well
Strain into a highball glass filled with fresh ice
Top up with ginger beer
Add a sprig of mint to garnish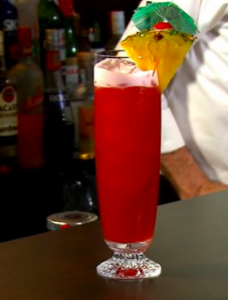 Singapore Sling
A holiday classic, everything about a Singapore Sling screams lounging on a beach or propping up a pool-side bar. It's also one of those cocktails that bartenders like to put their own twist on, so you'll see variations everywhere you go. If you want to make this version even more special, you can use Cointreau instead of triple sec.
Ingredients
2 oz gin
½ oz triple sec
¾ oz Cherry Heering liqueur
½ oz Benedictine DOM Liqueur
½ oz lime juice
½ oz grenadine
3 oz pineapple juice
2 dash Angostura bitters
Cherry, pineapple wedge and cocktail umbrella for garnish
Steps
Pour all the ingredients into a cocktail shaker.
Strain into a tall glass full of ice.
Garnish with a cherry and a pineapple wedge skewered together with a cocktail umbrella
Recipes provided by Advanced Mixology