The rise of Pink Gin is a confusing one, given that, well, there are various definitions of this romantically coloured drink. Traditionally, Pink Gin was a cocktail, made fashionable in the United Kingdom around the middle of the 19th century, made of gin – usually Plymouth Gin – combined with Angostura Bitters the deep red shade of the latter leaving the contents of the glass the fetching titular shade. 
The recipe for that is one of aching simplicity and, happily, the citrus and juniper notes of Fifty Pounds make it a great base for this easy to make classic: 
PINK GIN
Ingredients: 
One large measure of Fifty Pounds Gin
Angostura Bitters
Lemon

 

Ice
Method:
Add a dash of Angostura Bitters to a mixing glass, fill with ice and stir. Roll the mix of Bitters and melted water around the glass and strain off, to leave a light "wash" on the inside of the glass. Pour your large measure of Fifty Pounds over the ice, adding more ice if necessary. Stir and strain into a cocktail glass, with a twist of lemon. 
There are, however, a large number of gins on the market that are pink due to the addition of berries or other fruit. Nothing though beats homemade and few speak of English spring/summer time more than rhubarb gin. While it only takes some 10-15 minutes to prepare, the downside is it requires some four weeks of patience…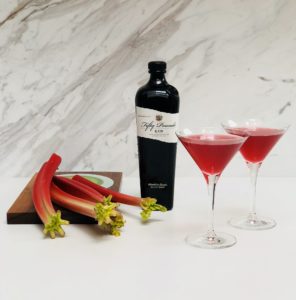 RHUBARB GIN
Ingredients:
1kg of rhubarb
750mls of Fifty Pounds Gin
400g of caster sugar
Method:
Trim and wash your rhubarb, removing the leaves. Cut the stalks into pieces of around 3-4cm in – length, place in a large jar – around a two-litre capacity will be required – cover with the sugar, seal with the lid and shake so that everything is combined. Over the course of a day or so, the sugar will draw the juice from the rhubarb. 
After 24 hours have passed, add your gin. Store it in a dark place or at the back of a cupboard, and leave for around for weeks. Strain the liquid into another bottle and seal. Discard the now rather pale bits of rhubarb and use your new pink, rhubarb-flavoured gin as the basis for very refreshing gin and tonics. 
ANOTHER alternative pink gin – and far quicker than the rhubarb version – is a quick Prosecco cocktail, made with either strawberries or raspberries for that celebrated shade.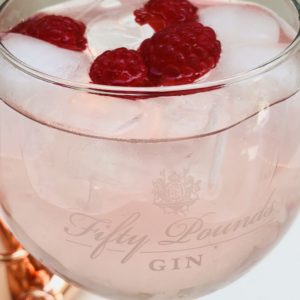 PROSECCO COCKTAIL
Ingredients:
50ml Fifty Pounds Gin
50ml tonic (or lemonade, if you prefer a sweeter drink)
25 ml Prosecco

 

A handful of red berries.

 

Ice
Method:
Take a large glass and add the berries. Muddle them – i.e., mash them with a wooden spoon into a thick liquid. Fill with ice, add the gin, tonic and stir. Once combined, add the Prosecco and stir gently to combine. Garnish with more berries if required. 
If muddling is a little too complex, a more straightforward approach is to use cranberry juice. 
Ingredients:
50ml Fifty Pounds Gin
50mls cranberry juice (or cranberry juice drink if you prefer a sweeter taste)
50mls rosé wine or prosecco
Thinly sliced lemon
Tonic water

 
Method:
Fill a jug / large glass with ice. Add the gin, cranberry and wine and stir. Add sliced lemons and tonic to taste. Pour into a chilled glass and serve immediately.