Isn't it funny how so many of us use the New Year as the impetus to start a new healthier life – and then wake up feeling terrible, with the mother of all hangovers?
The answer is, of course, to drink in moderation but we also know the temptations of New Year's Eve. We're also not going to claim that anything involving drinking is going to be a healthy option but there are a few tricks that can reduce that thumping head, nausea and feeling of dehydration and, perhaps, the calorie intake.
As it happens, gin isn't terribly calorific – a good 50ml measure will only add around 120 calories to your daily intake. So keep an eye on your tonic water's sugary additives – or switch to slimline – and you're already making steps in the right direction.  Learn more about the latest trends in Tonics or visit our Gin Cocktail section for more Ginspiration.
Also, check your juices. Juice drinks have added sugar, freshly squeezed juices – while still containing natural sugars that you have to be aware of – are a little better for you, bringing fibre and vitamins to the party. Dilute with soda water and you'll get flavour, fizz and a little hydration too.
If you're in a cocktail-making mood, consider replacing simple syrup with a mix of two parts good honey to three parts warm water. That could, at least, up your antioxidant levels.
Oh, and if you decide to "tie one on", try switching every third drink for a glass of water… You can thank us on January 1.
Staying healthy doesn't have to be a compromise on taste either, as these cocktail suggestions might prove…
Gin Gimlet
It's one of our favourites and a genuine classic. This version removes the cordial and ups the Vitamin C.
Ingredients:
50mls Fifty Pounds Gin
The juice of two limes
Simple honey syrup to taste
Method:
Combine all the ingredients in a glass with ice. Add simple syrup to taste – optional, of course. Garnish with a lime wedge.

Gin Thoreau
One advantage of Christmas is it's one time of the year you might have cranberries in the house. They're packed with Vitamin C, aside from their other health benefits.
Ingredients:
50g of cranberries – or cranberries and other berries, if you prefer
200mls Fifty Pounds Gin
50mls water
250mls cranberry juice
Juice of one lime
Lemon or orange slices
Simple honey syrup to taste
Method:
Muddle the berries, in whatever combination you've chosen – for the record, blueberries work very well with cranberries. Add the gin, stir thoroughly and leave for a few minutes.
In the meantime, bring the water, cranberry and lime juice to a gentle boil, then add to the muddled berries and gin. Taste, adding simple honey syrup if required. Pour into two mugs, garnish with orange or lemon slices.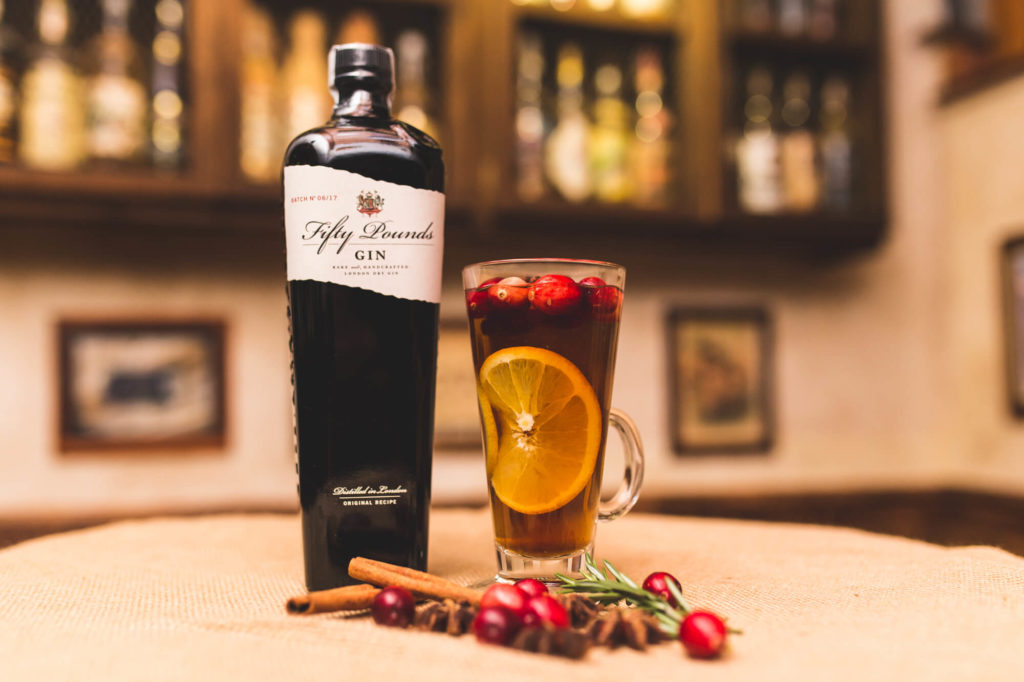 Cucumber Gin Lemonade
Cucumber and lemon? Why this is virtually a salad. Cough. No, no it's not, obviously, but you know what we mean.
Ingredients:
75mls fresh lemon juice
75mls fresh cucumber juice
50mls Fifty Pounds Gin
Simple honey syrup to taste
Club soda.
Method:
Peel and blitz half a cucumber in a blender, strain 75mls into a glass. Add the lemon juice and gin and stir. Taste, and add simple honey syrup if required. Add ice, and lengthen with club soda. Oh, and a cucumber slice makes it all look rather pretty too.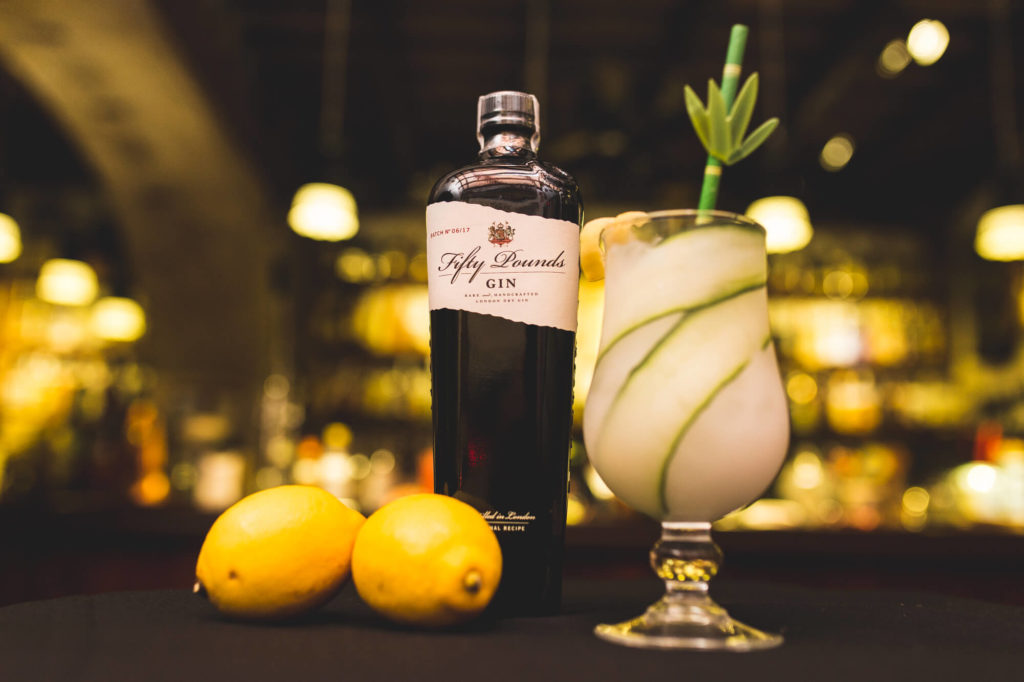 Mar-Tea-Ni
Yeah, we're better at drinks than we are puns. As tempting as it would be to drink gin all the time, even we can't do that. Tea is a popular choice at Fifty Pounds Towers, particularly the lighter, healthier varieties such as The Rare Tea Company's Silver Tip White Tea. Happily, it also goes rather well with gin…
Ingredients:
50mls brewed tea – we used Rare Tea Company's Silver Tip white tea, but a good jasmine or other such light tea is also delicious. (If freshly made, chill in the freezer for a few minutes to cool)
50mls of chilled Fifty Pounds Gin
15mls of dry vermouth
Olive brine to taste
Green olives
Method:
Add the tea, gin and vermouth into a large glass. Add ice and stir vigorously, until it's super chilled. Add olive brine to taste. Strain into a chilled martini glass, add olives.